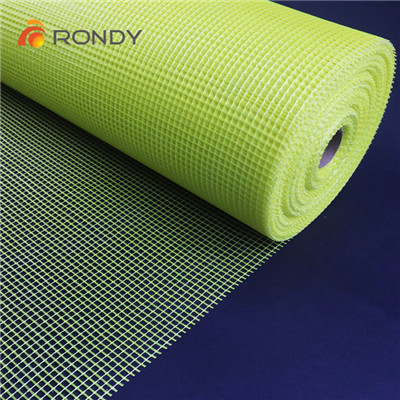 Fiberglass Mesh is on the basis of C-glass or E-glass woven fabric, then coated by acrylic acid copolymer liquid. good alkaline-resistance, high strength, excellent alkali and acid resistance, good cohesion, excellent in coating etc.
It is widely used in wall reinforce, out-side wall heat insulation, roof waterproof, reinforcement, plastic, bitumen, plaster, marble, mosaic. etc. ,It is an ideal engineering
material in construction .
---
Specifications:
Mesh size:3x3mm,4x4mm,5x5mm,10x10mm
Unit weight:45g/m2, 60g/m2,75g/m2,110g/m2, 120g/m2,145g/m2, 160g/m2
Roll length:50m,100m,300m,500m
Roll width:10cm to 200cm
Color: white(standard), blue, yellow, green, red
Different specifications are available as per customers requirements.
---
Item Number

Yarn (Tex)

Mesh Size (mm)

Density Count /25mm

Finished Weight

Tensile Strength N/5cm x 20cm

Woven structure

Content of resin % (≥)

warp

weft

warp

weft

warp

weft

g/m2

warp

weft

RD45-8X8

30X2

45

3

3

8

8

45

450

450

leno

15

RD60-8X8

30X2

67

3

3

8

8

60

450

450

leno

15

RD60-10X20

30X2

67

2.5

1.2

10

20

60

500

650

Plain

18

RD80-20X20

67X2

200

1.2

1.2

20

20

80

650

650

Plain

18

RD75-4X4

45X2

200

4

4

6

6

75

650

650

leno

15

RD75-5X5

45X2

200

5

5

5

5

75

550

850

leno

15

RD90-5X5

67X2

250

5

5

5

5

90

700

1050

leno

15

RD110-10X10

250X2

400

10

10

2.5

2.5

110

1250

1250

leno

16

RD125-5X5

134X2

250

5

5

5

5

125

1000

1300

leno

16

RD125-10X10

250X2

550

10

10

2.5

2.5

125

1250

1450

leno

16

RD145-5X5

134X2

350

5

5

5

5

145

1400

1500

leno

16

RD160-5X5

134X2

400

5

5

5

5

160

1450

1600

leno

16

RD160-4X4

134X2

300

4

4

6

6

160

1550

1650

leno

16

RD165-4X5

134X2

350

4

4

6

6

165

1650

1650

leno

16

RD200-4X5

200X2

600

4

5

6

5

200

1500

2200

leno

18

RD280-4X5

200X2

600

4

5

6

5

280

1900

2850

leno

18

RD300-4X5

200X2

700

4

5

6

5

300

2000

3000

leno

18
Contact us ,Get MSDS,TDS,Certificate