Silicone coated fiberglass fabric is constructed from a fiberglass base cloth and impregnated or coated one side or both sides with a specially compounded silicone rubber.Due to silicone rubber physiological inert, not only increase the strength,thermal insulation,fireproof,insulating properties,but also has the ozone resistance,oxygen aging,light aging,climate aging,oil resistance and other properties.
Product Code
Unit Weight
Thickness
Coating
Color
Temperature
RD7628ST
320g/m2
10oz/yd2
0.2mm
0.008inch
Double Sides




Grey,White,Red,Orange,

Yellow etc

550℃

RD3732SO
510g/m2
17oz/yd2
0.43mm
0.017inch
One Side
RD3732ST
570g/m2
19oz/yd2
0.48mm
0.019inch
Double Sides
RD3784ST1
1040g/m2
35oz/yd2
0.8mm
0.032inch
One Side
RD3784ST2
1140g/m2
38oz/yd2
0.9mm
0.035inch
Double Sides
RD666ST1
840g/m2
28oz/yd2
0.7mm
0.028inch
One Side
RD666ST2
910g/m2
31oz/yd2
0.7mm
0.028inch
Double Sides
Pcaking
Standard Width:1000mm(40inch),1520mm(60inch)
Carton or Woven bag packing
Other spec are available on request
Features
1.Good resistance to extreme temperature -94℉(-70℃)~1000℉(550℃).
2.High strength,fire resistance,oil resistance,waterproof,chemical resistance,non-toxic.
3.Weathering aging resistance,excellent weather ability used in outdoors and ages may be reached to 10years.
4.High insulation:dielectric constant from 3 to 3.2,breakdown voltage from 20 to 50KV/mm.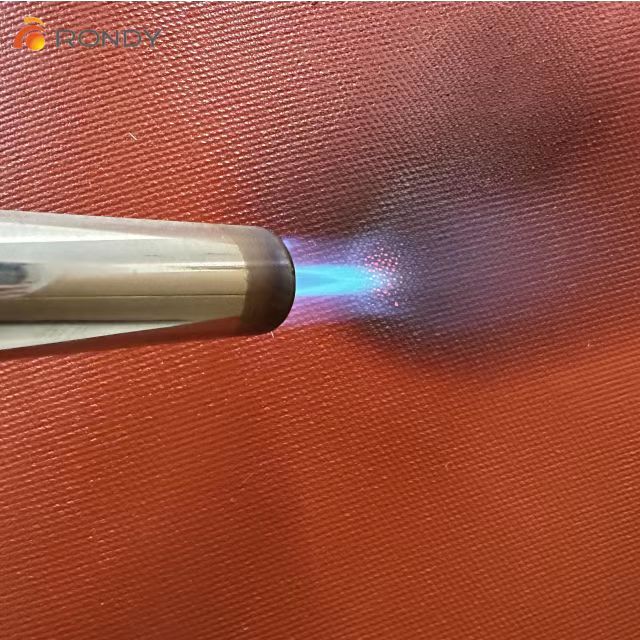 Application
Fabric expansion joints Insulation jackets,mattress and pad
Fire door&fire curtains
Welding/ fire blanket
Pipeline ductile conjunction and non-metal compensating facility
High temperature protection and electric insulation