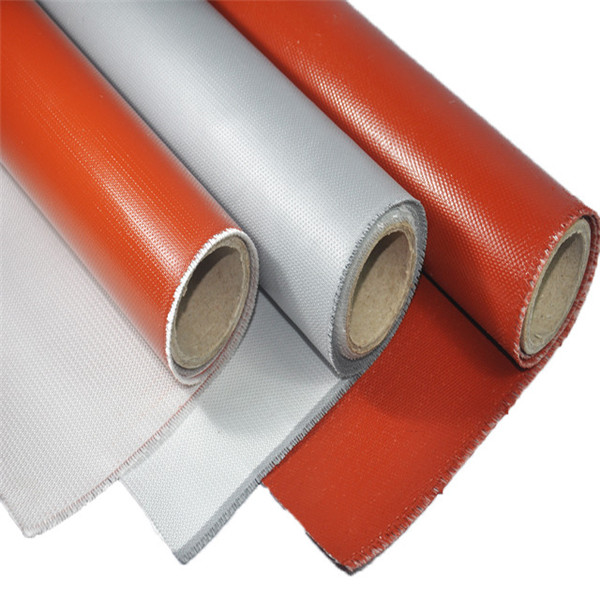 Silicone coated fiberglass fabric is constructed from a fiberglass base cloth and impregnated or coated one side or both sides with a specially compounded silicone rubber. Due to silicone rubber physiological inert, not only increase the strength, thermal insulation, fireproof , insulating properties, but also has the ozone resistance, oxygen aging, light aging, climate aging , oil resistance and other properties.
Properties:
Service temperature: -30℃ -550℃
Ozone resistance,weathering aging resistance ,can be used outdoor for many years.
Excellent insulation,dielectric constant from 3 to 3.2,weak voltage from 20~50 kv/mm

Main application:
Insulation jackets, mattress and pad
Fire doors & Fire curtains
Welding/fire blankets
Pipeline ductile conjunction and non-metal compensating facility
High temperature protection and electric insulation.
Serve as a welding defender,heat protection quilt,foundry splash protection
Use for conveyor belt and expansion joints
Use as electrical insulation,chemical corrsion resistance and packing material
Also is widely used in aerospace, marine,chemical industry,auto-manufacturer,construction,piping flexility and sealing industry
Main Specifications:
| | | | | | |
| --- | --- | --- | --- | --- | --- |
| Code | Width (mm) | Thickness (mm) | Color | Unit Weight (g/m2) | Coating |
| RD7628ST | 1270 | 0.20 | red/grey | 320 | Double side |
| RD3732SO | 1000/1524/2000 | 0.43 | red/grey | 510 | One Side |
| RD3732ST | 1000/1524/2000 | 0.45 | red/grey | 570 | Two Side |
| RD3784ST1 | 1000/1524/2000 | 0.80 | red/grey/black | 1040 | One Side |
| RD3784ST2 | 1000/1524/2000 | 0.90 | red/grey/black | 1140 | Two Side |
| RD666ST1 | 1000/1524 | 0.70 | grey/black | 840 | One Side |
| RD666ST2 | 1000/1524 | 0.70 | grey/black | 910 | Two Side |
Contact us ,Get MSDS,TDS,Certificate